Public sector management and finance
This research area focuses on the management and finance of the public sector. It includes some works done, so far, on public sector organisational change and on the systems and processes of public financial management.
Key issues
The public sector provides a large component part of countries' economies, in such terms as, for example, share of GDP and employment. With respect to other parts of the economy (the private for-profit business and non-profit activity), the public sector operates according to its own 'logics', which arise from the distinctive role of aims, institutions, technologies and practices. Research on the management and finance of the public sector is intended to elucidate these 'logics' and to contribute improve them.
Some of the key issues of interest include:
What are the aims of the public sector and how are they decided?
How do institutions help attain the aims or provide sources of impediments to achieve them?
What affects the efficiency and cost-effectiveness of achieving public sector aims?
What makes public sector practices effective, and how do practices change over time?
Below is a map showing some of the components of a broad framework for analysis. It shows:
Institutions are relatively persistent features of the context where public sector entities operate, and they affect organisational practices;
Technology is another feature of the context of operation of public sector entities;
Public policies indicate policy aims and means to attain them;
Practices are intended to attain aims, which consist of ideational resources that orient the activities within the practices;
Organizational change may take place to change practices, and organisational change may take place while also changing technologies and aims.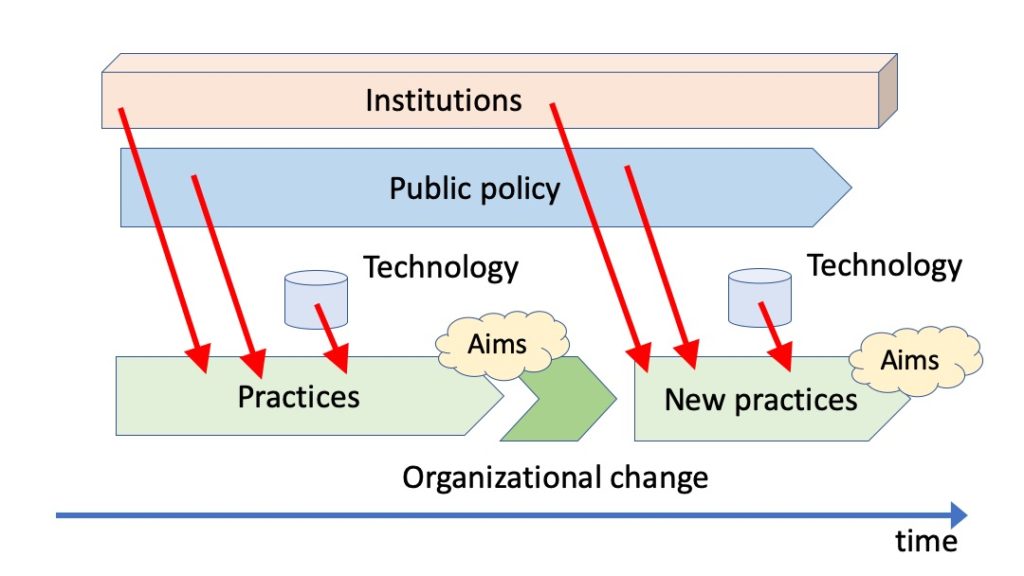 Obviously institutions may not be stable over time. Institutional change may take place and fundamentally reshape identities, incentives and ideas around the configuration and operation of the public sector.
My research outputs:
On public sector organisational change:
Asquer, A. (2015). Managing Challenging Organizational Change: Introducing active labour market policies in Italian public employment agencies. Public Management Review, 17(6), 901-921.
Asquer, A. (2012). Managing the process of decentralization: Transforming old public entities into new agencies in the agricultural sector. International Public Management Journal, 15(2), 207-229.
Asquer, A. (2010). Implementing Fiscal decentralization: A case Study of a regional Tax Agency in Italy. Governance, 23(4), 609-621.
On public sector management:
Flynn, N. and Asquer, A. (2017). Public Sector Management. London: SAGE.
Asquer, A. (2017). Public Sector Revenue. London: Routledge.