Regulation of infrastructure and utilities
This research area focuses on the regulation of infrastructure and utilities. My interest originated in the water sector, then expanded to other industries like electricity and gas. Last studies were done on the variety of views about how infrastructure and utilities should be regulated.
Outputs:
Araral, E., A. Asquer, and Y. Wang (2017), "Regulatory Constructivism: Application of Q Methodology in Italy and China", Water Resources Management, 17: 1-25.
Asquer, A. (2014), "Explaining Partial Privatization of Public Service Provision: The Emergence of Mixed Ownership Water Firms in Italy (1994-2009), Annals of Public and Cooperative Economics, 85(1): 11-30.
Asquer, A. (2014), "Using Analytic Narratives in Policy Analysis: An Explanation of the Implementation of the Water Reform in Italy (1994-2002)", Journal of Comparative Policy Analysis, 16(1): 79-93
Asquer, A. (2014), "Understanding Subjectivities in the Regulation of Local Water Services: A Q-Methodology Study of Elected Public Officers in Italy", Water, 6(3): 670-693.
Asquer A. (2011), "Liberalization and Regulatory Reform of Network Industries: A Comparative Analysis of Italian Public Utilities", Utilities Policy, 19(3): 172-184.
Asquer A. (2010), "Regulatory Reform and Industrial Restructuring: The Cases of Water, Gas, and Electricity in Italy", Competition and Regulation in Network Industries, 11(1): 85-117.
Asquer A. (2010), "The Regulatory Reform of Water Infrastructure in Italy: Overall Design and Local Variations', Water Policy, 12(1-Supplement): 66-83.
Asquer, A. (2018), Regulation of Infrastructure and Utilities: Public Policy and Management Issues. London: Palgrave.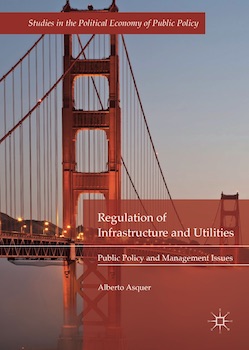 Asquer, A., F. Becchis, and D. Russolillo (eds) (2016), The Political Economy of Local Regulation: Theoretical Frameworks and International Case Studies. London: Palgrave.